Retreat center "BARAKA"
INDIVIDUAL RETREATS
Our Retreat Center "BARAKA" is located in a forest farmstead near Vilnius. You are invited to have an individual retreat here in a secluded, peaceful and safe place specifically designed for this purpose. In the lap of nature you will have the opportunity to recover from the stressful and often neurotic modern life and regain inner strength and harmony or discover a new vision of life. Meditative peaceful atmosphere, distinctive spiritual quality of the place, support of a retreat guide, simple mode of life, communion with nature, cultivation of inner silence or just being in the present - all this will foster the process of inner healing and growth and help in spiritual practice.

Individual retreat options:
Self-guided retreat;

Retreat with therapy for regaining emotional health;

Retreat with guidance for a new vision of one's life situation or finding solutions for problems in one's life;

Spiritual retreat. Strict retreat dedicated to spiritual practice.

These options are described in detail below.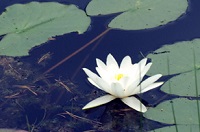 Self-guided retreat
This option is designed for people who just need a peaceful and holy place to take rest from the daily routine and everyday life problems. Enjoying a simple and even archaic life in secluded natural surroundings, you can have a healing rest undisturbed by other people, to regain inner power, harmony, connection with the Self and to ponder over your life relying on your own inner wisdom.
Retreat with therapy for regaining emotional health

This type of individual retreat includes all advantages of the first option - nature, calm and spiritually charged place - plus therapy, consultations and practices for psychological health. This option would be most suitable for people who want fast recovery from stress and also for those, who suffer from anxiety, panic attacks, depression, insomnia, post-traumatic stress, addictions, chronic fatigue syndrome, emotional instability, etc.
The retreat guide will be your caring friend and will provide all the necessary consultations, training, instructions and support. During the initial consultation you will get a set of therapeutic practices selected and adapted specifically for you. It could contain breathing and relaxation exercises, meditation, some yoga and mindfulness techniques, modern treatments like EFT, eye movement technique, sound therapy (mantra, gongs, Tibetan singing bowls), Sufi aromatherapy and - for those who want and need it - simple work therapy (taking care of the forest or flowers, splitting wood, etc.)
Retreat with guidance for a new vision of one's life situation or finding solutions to problems in one's life
This option of individual retreat is most suitable for people who want to escape from everyday routines in order to get a fresh insight into one's life. You will have plenty of free time, favorable conditions and guidance for contemplating and meditating on the purpose and strategy of life and by listening to the voice of inner wisdom, to find solutions to questions important to you.

Consultations with the retreat guide will include creativity and problem solving meditation and contemplation techniques used in psychosynthesis, inner work with subpersonalities, guided meditation, etc.
This is a strict individual retreat solely dedicated to spiritual practice. It involves restrictions on contacts, food, sleep, day schedule and some rules of conduct. It is based on the retreat (Chilla) tradition of the Sufi Chishti order, with some adaptations which make it more suitable for western people. During the initial meeting with the retreat guide all instructions will be given and Sufi/Yoga meditation, contemplation and breathing practices shown. This retreat is suitable only for people who already have experience in meditation and spiritual practice, so not all applications will be accepted.

We follow an inter-religious approach, accepting people of all religions and respect their faith. We believe there is One Truth which transcends differences in outer religious forms.
Accommodation. 33 euro per day (3-5 days stay); 29 euro per day (6-14 days stay); 28 euro per day for longer than 14 days stay.

Food. 15 euro per day. We provide quality and fresh food products (like vegetables, salads, fruits, nuts, whole grains, cereals, dairy products, honey, etc.) according to your preferences. You would need to prepare the food for yourself and this is a necessary part of the retreat process. In some cases it is possible to order prepared meal (additional fee applies).

Consultation/therapy/guidance. 40 euro per hour.

Therapies. Psychosynthesis; special therapies for coping with anxiety/panic attacks and stress; meditation, mindfulness and yoga therapies; Sufi aromatherapy; Sound therapy; Tibetan singing bowls massage.

There is no fee for Spiritual retreat. Donations to the further development and growth of our Retreat Center are welcome.

Minimal stay - 3 days. Reservations are subject to 30% advance payment for accommodation and food. You would need to pay the rest of the sum on arrival.

Languages. We speak Lithuanian, English and Russian languages.
Place. Our Retreat Center "BARAKA" is situated in a forest farmstead 39 km from Vilnius center, 49 km from Vilnius International airport. From the airport it takes only 40 minutes by taxi (approximately 25-30 euro) to reach it. Zebokstos lake and river Muse are nearby. We have 1,2 ha (30 acres) of pine forest and 2,3 ha (57 acres) of land with gardens, old birch and maple trees and a half moon shaped pond.

On arrival you will be embraced by complete silence, which is disturbed only by a woodpecker's hammering sound, a screaming eagle, who has a nest right here in our forest on the top of tall pine. Almost every day, especially early in the morning you can see roe-deer family, and partridges trying to escape and hide in the meadow grass. Sometimes, if you are lucky you could admire the fascinating dance of cranes. Purple sunsets could take your breath away and at night the stars are so near...
1. We prepared four individual comfortable, clean, meditative rooms in the Green house, which was built in accordance with eco-construction requirements. Here all the amenities are available for you, including kitchen, bathroon, sauna, hot/cold watter, heating/cooling, free internet access.
2. Yurt, which is suitable to live comfortably during all seasons, even in cold winter months. Advantages of a Yurt: authentic and archaic mode of life without electricity - it is particularly suitable for a strict retreat. There is an oven-fireplace suitable to cook or prepare hot water, also a bio-toilet nearby. All amenities, including a hot shower are available only 80 meters away in the Green house.
Why the name - BARAKA. In Sufism baraka (alternative spelling barakah) means blessings and spiritual strength, which is transmitted by a spiritual teacher or a saint. It is also possible to feel baraka in holy places, sacred tombs, temples, or caves where enlightened yogis or monks have meditated.

When you come here you could feel baraka - a special energy and spirit of the place as our Retreat Center is located in a natural place of power. We humbly received blessings, guidance and protection for this place as a spiritual center from the saints of Gudri Shahi Sufi Order which is one of the branch of the Chishti Sufi Order.
About us. Retreat Center is the countryside branch of our Holistic Center which is based in Vilnius. We provide Yoga, meditation, Jungian analytical psychotherapy, psychosynthesis, Sufi aromatherapy, healing sound therapies for individuals and groups from 2007. We mainly specialize in treatment of anxiety/panic attacks, stress management and also in meditation and other practices for self-realization.

Enquiry/registrations.
If you have questions or a registration request please send email to terapija@holi.lt. For registrations please attach a filled Application Form. Download it here.
Cultural Reserve of Kernave (the first capital of the Grand Duchy of Lithuania) is just 8 km away (20-30 min by bike through forest and villages). On the road Kernavė-Vilnius, taking a right turn in the town of Dūkštai, a forest path will lead you to the area of burial mounds in Karmazinai. There are about 130 burial mounds in that area; three of them were reconstructed after archaeological excavations had been carried out there. Having climbed a hill by the road beyond Dūkštai, you will find yourself in the largest oak-wood in Lithuania which contains a runestone. At the confluence of the Dūkšta and Neris rivers, having turned off the road a little in the direction of Vievis, there is a hill-fort of Karmazinai with a beautiful view of the Neris valley where once there was a pagan place of worship. A cognitive part meanders among the old oak-trees next to the hill fort. http://www.vilnius-tourism.lt/en/

Vilnius - the capital of Lithuania. Political center of the Grand Duchy of Lithuania from the 13th to the end of the 18th century, Vilnius has had a profound influence on the cultural and architectural development of much of Eastern Europe. Despite invasions and partial destruction, it has preserved an impressive complex of Gothic, Renaissance, Baroque and classical buildings as well as its medieval layout and natural setting. http://www.vilnius-tourism.lt/en/

Trakai (49 km away). This town, famous for its picturesque landscape and the legendary Trakai Castle, was a cradle of Lithuanian statehood, an important military and political centre, headquarters of the Lithuanian Grand Dukes, and the capital of Lithuania. Today, Trakai attracts visitors to a wonderful place offering refuge from hectic city life, with walks around the beautiful area or yacht trips on one of the numerous lakes. http://www.trakai-visit.lt/
Naujienlaiškio prenumerata
Gaukite naujausią informaciją apie mūsų meditacijos, jogos ir terapinių grupių ar seminarų datas. Užsisakius naujienlaiškį gaunate teisę nemokamai 15 min konsultacijai.